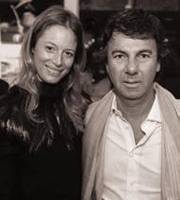 Miami's own Ugo Colombo, and wife Sara Colombo, were featured as part of Miami's Haute 100.
Miami, FL -- Sara and Ugo Colombo were recently named one of Miami's Haute 100 in the Power Couple category. Individuals on Miami's Haute 100 are recognized for their unique contributions to the Miami community in one of thirteen categories. Ugo and Sara Colombo were featured as a Power Couple for their respective businesses, CMC Group and NEST.
Ugo Colombo is recognized for his 'Midas' Touch' and luxurious contributions to the city of Miami, while Sara Colombo is recognized for her innate sense of style which is represented in every piece chosen for her interior design shop, NEST.
"We are honored to be included amongst these influential individuals. We will continue our efforts to support the businesses and community of Miami", said Ugo Colombo President of CMC Group. Both Sara and Ugo Colombo are proud to support the city of Miami and look forward to continuing their efforts to improve the city.
Ugo Colombo is a Miami residential and commercial real estate developer. Ugo has created some of Miami's most recognizable structures as President of CMC Group. His wife Sara's 2,200-square-foot interior design shop, NEST, specializes in high-style products. Sara Colombo's aesthetic for fine interiors and accessories was cultivated as she traveled the world as a model, while making her home in the fashionable cities of Paris and London.